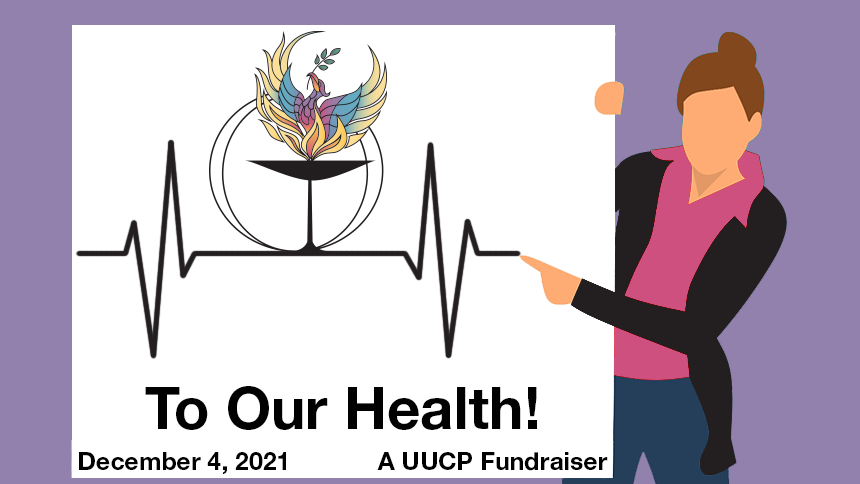 The UUCP Auction Is Back—Hopefully!
Mark your calendars for Saturday, December 4, and come together in celebration of our health
If we don't plan it, it can't happen! With that in mind, we are pressing ahead as though it will be safe to gather for a live auction in December. If it isn't, we will push the date back to a safe time. But the bottom line is that we must get the items together to auction off if there is to be an auction.
What We Need From YOU!
As in years past, we are looking for folks to donate prizes to be auctioned off. This list of ideas for auction items can help you as well as give you inspiration to come up with something of your own. We welcome donations of events, services, physical items, and gift cards of any value.
Events
If you opt to have an event at your home for however many people you are comfortable with and it is not safe to do it on the scheduled day, it will be postponed to a time when it will be safe. We will help make it fun and safe for everyone involved. But events don't have to be held at your home—you could host two or more people at a sporting event or arrange brunch at a restaurant or cafe.
Physical Items
We will also be accepting physical items. Please fill out the donation form for the item you wish to donate, and someone will respond with information on how to proceed.
Services
Services are also a welcome donation. You could offer gift wrapping services, provide online or in-person computer tutoring, or even just be available to drive a congregation member to and from an appointment.
Gift Cards
If you can't donate an event, physical item or service, perhaps you would be able to donate a gift card of any value for our raffle drawings? Even a $5 gift card can help make a difference in the success of this event.
Donation Deadline
We will be gathering donations through Saturday, November 20, but the earlier we know what we will be able to offer during the fundraiser, the easier it will be for all of you, so please take a minute to fill out the donation form now.
Do You Have Questions?
If you have questions about the auction, please include them when you submit your donation form or email us at fundraiser@phoenixuu.org.
Donation Form